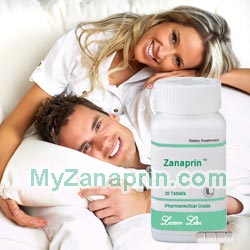 Zanaprin is an unmatched alternative to Prescription anxiety stress relief medications such as Xanax and Zoloft. It is much more than the many common herbal supplements currently available –  Zanaprin contains pharmacological compounds, which gives it prescription strength to aid in stress and anxiety relief. Zanaprin doesn't have the side effects that you can find with prescription products so it is safe to use for both short and long term use.
Unlike other non-prescription anti-anxiety products, Zanaprin does NOT contain herbs and extracts. Instead, Zanaprin was scientifically formulated with pharmacological ingredients that have proven effectiveness for reducing stress and anxiety in non-addictive way.
Zanaprin Relieves Anxiety and Stress
Enhances mood and relaxation
Relieves sleepless nights
Increases sociability and mental focus
Supports a healthy stress free lifestyle
Acts Similar to Prescription Anti-Anxiety Medications
No prescription required
Zanaprin is the first choice by people who want an effective anti-anxiety medication, but without the need for a prescription.
Buy Zanaprin Online
Amount
S & H
Price
Savings
Add to Cart
Zanaprin 90ct
3 Months
$129.99
Save $49.86
Zanaprin 180ct
6 Months
$259.98
Save $99.72
Zanaprin 270ct
9 Months
$389.97
Save $149.58
Zanaprin 30ct
1 Month
$12.95
$59.95
Zanaprin 60ct
2 Months
$12.95
$99.94
Save $19.96
Zanaprin Testimonials
| | |
| --- | --- |
| | I began having to travel a lot for work and I started feeling very anxious when I had to fly. The anxiety from flying got so bad that a couple of times I was convinced I was having a heart attack. I have never taken any prescription drugs for anxiety before and didn't want to start now either. I was relieved when I found Zanaprin because it is a natural anti-anxiety medication that I felt was safe enough to try. Now, before I travel I take Zanaprin and I feel much more relaxed and often sleep through the flight. Roman – Detroit, Michigan |
| | Sleepless nights have plagued me for years and my husband would always comment about how tired I looked and how dark my eyes were. I just couldn't sleep well. I would fall asleep, but a couple hours later I was awake thinking about all the things I had to do the next day or that were causing stress in my life. I would toss and turn for at least 2-3 hours most nights. A couple of months ago I decided to try Zanaprin to help me sleep and it has worked wonders for me. I don't wake up as much at night anymore and I feel much more rested. This is a great natural product that really does work. Joanne – Denver, Colorado |
| | I have struggled with stress and anxiety for many years and was prescribed Xanax by my doctor to help me cope. Although Xanax helped me manage my stress and anxiety it also made me feel slow and doped up so I explored other options. I searched for a natural Xanax alternative and came across Zanaprin. I wasn't sure if it would be strong enough to help keep my anxiety and stress under control but I ordered a month supply and gave it a try. After taking Zanaprin for a month I felt like I could control my anxiety and stress levels while still being able to think clearly and be alert. I think it's a great substitute for Xanax for people like me. Kerry – Bellevue, Washington |
| | Zanaprin helped me to start meeting new people because it made me feel more relaxed in social situations where I would normally be really shy and nervous. Christopher – Vancouver, British Columbia |
| | At exam time I would feel really anxious and have a hard time concentrating. My friends always told me to take caffeine pills so that I would be really alert, but this just made my anxiety worse. One day a classmate offered me a zanaprin before a test and said it would help me to relax and focus. Did it ever. Now I take zanaprin before my exams and do much better. I have a number of friends who do the same thing and swear by it. Joel – Phoenix, Arizona |
| | To begin with, I bought Zanaprin worried it would be a scam like the ones you sometimes hear about that take your money, but I received my order just fine – thanks Lazarus Labs. I have been taking Zanaprin for three weeks now. I have suffered many years of sleepless nights with insomnia, but I didn't want to take a prescription drug so I was excited when I found Zanaprin and I have to say that it works great so far. I have been much less wakeful at night and I wake up feeling much more rested. I feel in a great mood these days. I don't know if it's from sleeping better or the anti-depressant effects, but it doesn't matter. I'm happy and rested – this was more than I expected from this product. Great stuff! Rachael – Lincoln, Nebraska |
| | I was prescribed Zoloft by my doctor a year ago when I lost my job and had to sell my house. It worked to level me out, but I hated how it sometimes made me feel zoned out. I don't like taking drugs. I read some good reviews about Zanaprin so I broke down and ordered some. I don't find that it is as strong as Zoloft, but it doesn't make me feel like a zombie either. Zanaprin puts me in a mellow mood, but I can get a lot done without all the stress. A good product overall. Darren – Santa Fe, New Mexico |
| | I ordered Zanaprin for my daughter who has struggled with depression since she was a teenager. She's 23 now. Like so many other people, she hates how the prescription antidepressants make her feel – the side effects can be something worse than the condition itself. We discussed the decision to try Zanaprin with her doctor and he thought it was worth a try. I am excited to see how well it works – it would be great to treat her condition herbally instead of a lifetime of drugs. She's been taking it for a week now and she seems relaxed and able to socialize. Cathy – Fairfax, Virginia |
What Makes Zanaprin so Effective?
In order to answer that question, you have to look at the ingredients that go into the making of this supplement. These are scientifically-engineered ingredients that have been proven to help relieve anxiety and stress. Together, they are effective in treating what may be going wrong within the body that leads a person to have overwhelming stress and anxiety. While many instances of panic attack are due to outside circumstances, they would not be so likely to happen if the body was functioning correctly within.
There are a few different things that happen in the body when a person is struggling with depression or anxiety. There are places within the brain that must communicate with other parts of the body. When these signals or messages are interrupted, problems ensure – and these problems are sometimes serious. There are specific ways that these messages can be delivered as they should be – and some of those things can come from natural sources. Prescriptions can do this, but they tend to come with some nasty side effects. The ingredients in Zanaprin are non-prescription, and may not have such bad side effects.
One key ingredient in Zanaprin is Phenibut. This is an amino acid that helps re-establish those neurological connections between the brain and the body. The main thing that this ingredient does is to help the body get a more restful night of sleep. That may not sound like much, but it is actually a very important part of relieving anxiety and panic symptoms. The body and mind heal during restful sleep, and if that is not secured each night, problems occur. Not only can Phenibut help with a night of full sleep, it also helps with stress levels and concentration problems – also side effects of not enough sleep.
There are other ingredients in Zanaprin that work in the same way, with each tackling a different aspect of anxiety and panic problems from physical sources. With these problems alleviated, the mind can relax and much anxiety is gone. Each ingredient is chosen for Zanaprin for a very specific reason. Remember that though Zanaprin is a non-prescription medication, some of its ingredients can interact with prescription medications, and thus could cause medical problems. Anyone who wishes to try Zanaprin should discuss it with their doctor first to ensure safety