Zanaprin is an effective natural anti-anxiety medication that contains an unique proprietary formula of beta-phenyl-gamma-aminobutyric acid, gamma-ethylamino-L-glutamic acid, 4-Nicotinoylaminobutyric acid and 2-Aminoethanesulfonic acid. A closer look at these ingredients tells us how Zanaprin works and why it is such a powerful, non-prescription anti-anxiety medication.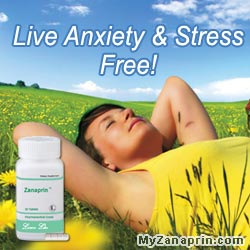 The Proven Power of Phenibut
Zanaprin contains beta-phenyl-gamma-aminobutyric acid, also known as Phenibut. Over many years, Phenibut has been sold in both neuropsychotropic drugs and dietary supplements for its ability to promote a feeling of relaxation. In fact, Phenibut has been used since the 1960's to treat a wide variety of conditions, including anxiety, insomnia and post-traumatic stress disorder.
L-Theanine – The Stress Reducer
Combined with Phenibut is gamma-ethylamino-L-glutamic acid, also known as L-Theanine. L-Theanine is a natural compound found in tea and some mushrooms. It has a relaxing effect without causing drowsiness, making it a perfect addition to Zanaprin's formula.
Taurine Improves Energy
Another ingredient found in Zanaprin is 2-Aminoethanesulfonic acid, otherwise known as Taurine. Taurine is a common natural ingredient found in many sports and energy drinks because it increases energy levels. When combined with the other ingredients in Zanaprin, it acts to improve energy so that the stresses of daily life are not as exhausting. It is a perfect compliment to the mood enhancers, giving Zanaprin a well-rounded approach to helping you feel as good as you possibly can every day.
How Zanaprin Works Similar To Prescription Anti-Anxiety Drugs
Zanaprin is a pharmacological compound that was scientifically developed to work similar to the popular anti-anxiety and anti-stress medications. Zanaprin works fast to reduce stress, elevate mood and improve energy so that you can get back to doing what you enjoy in life.
If you are someone, like millions of people in the world, who suffers from anxiety, stress or insomnia, then Zanaprin may be the product for you. It is best to discuss taking Zanaprin with you doctor before doing so to make sure it is the right choice for you.