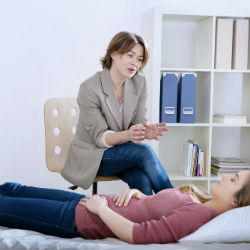 Anxiety can be crippling. It can stop you in your tracks and cause you to feel unmotivated and hopeless, as well as fearful and uneasy. Thankfully, there are a few anti-anxiety hacks that you can try the next time these feelings start to arise. Reduce and combat those negative feelings fast by following the tips below.
Breathe
The simple act of breathing can either intensify or reduce your anxiety. If you begin breathing quickly and your breath becomes shallow, your body will continue being in a tense state and your nervous system will respond accordingly. On the other hand, if you practice a relaxed, deep form of breathing, you can begin to relax your body and your nervous system.
When you find it hard to deepen your breaths while you're feeling anxious, start with a comfortable, long sigh. Then you can begin slowly breathing in more air. Focus your mind on your breath rather than on your worries or fear. It might even be helpful to breathe deeply in through your nose and then sigh the air out of the mouth.
Don't Bottle Up Your Feelings
One of the anti-anxiety hacks that a lot of people overlook is simply talking to someone you can trust. You may be surprised by how much you can gain by simply talking about your fears and worries with someone else, rather than bottling up your feelings. Be open and talk to someone who can view your concerns objectively to help you realize that you might actually be overreacting without good reason. If you don't know a friend or family member with whom you can speak openly, you can see a therapist instead.
Focus on the Present Moment
If your anxiety is coming from thinking about the past or worrying about the future, you should train your mind to focus on the present moment. Bring your awareness into your current space by looking around, taking inventory of what's around you, and realizing that you're actually okay. The deep breathing discussed above, as well as a simple seated meditation with your eyes closed, can help you achieve this.
Exercise Regularly
Another one of the best anti-anxiety hacks is to simply remain physically active. Getting exercise on a regular basis will help you feel calmer and more in control. This is because working out will remove chemicals like cortisol and norepinephrine that are related to stress. At the same time, endorphins will be produced that enhance your wellbeing.
The next time you're feeling anxious, try the tips above. You might find that you're able to get in control right away. If these hacks don't work, though, you can also try a product like Zanaprin for results.