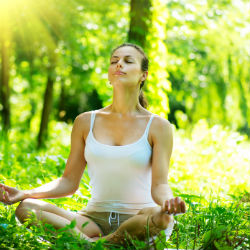 Many people who struggle with anxiety find that they can reduce their tension and stress by incorporating some simple breathing exercises into their everyday life. If you haven't yet tried out some deep breathing to get your anxiety under control naturally, check out the deep breathing benefits below to learn a few reasons why you should give this strategy a try.
Reducing Stress
When stress takes hold, the body's sympathetic nervous system triggers your fight-or-flight response. This gives you energy that you can use to respond to a dangerous situation, but it also causes the breath to become fast and shallow. Rather than breathing from the lower part of your lungs, you end up breathing from your chest. This can make you feel as though you're suffering with shortness of breath, and your pulse increases with your blood pressure.
In this state of anxiety, you can gain control by focusing on your breathing and deepening your breath. In fact, one of the most important deep breathing benefits is the ability to reverse those anxiety symptoms while creating calmness in body and mind. This is because your body's parasympathetic nervous system is activated by slow, deep breath. Your blood pressure will decrease, along with your heart rate, and you'll start to feel in control again.
Relaxing the Muscles
In addition to the deep breathing benefits above, by calming and taking control over your breath, you'll also start engaging your diaphragm and abdominal muscles. Instead of using the muscles within your neck and upper chest, you'll be using respiratory muscles, efficiently delivering oxygen throughout your body.
This reduces the amount of strain felt within the muscles of your upper chest and neck. When these muscles relax, more oxygen can reach every tissue and cell, and your entire body will begin to feel more at ease. Less tension will help you feel less anxious, and you'll feel more balanced.
Give It a Try
Start by placing one of your hands on your belly and relaxing the abs. Inhale slowly through your nose, but bring the air to the bottom of the lungs so you can feel the abdomen rise. Let the ribs expand and let your collarbones rise too. When you reach the peak of your inhale, pause for a second and then let it out gently, moving the air out from the top of your lungs first and then the bottom.
Ultimately, with the right breathing technique, you can decrease overwhelming feelings associated with anxiety, while also relaxing your muscles, increasing your energy, and stabilizing your blood pressure and heart rate. But when deep breathing isn't enough, give a product like Zanaprin a try as well.