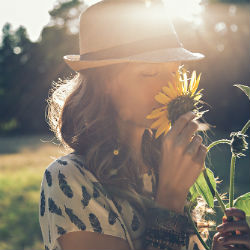 Are you tired of dealing with anxiety that keeps holding you back from enjoying life? Then try out some of the techniques below.
10 scientifically proven anxiety relief techniques…
1. Exercise Daily
Exercising once in a while isn't enough to get consistent anxiety relief. Instead, make it a point to exercise every day. Plus, when you build up your muscles, your body releases enzymes that will detoxify kynurenine, which is a byproduct of inflammation and stress.
2. Practice Mindfulness
Focusing your mind on the present, rather than thinking about the future or the past, is one of the best anxiety relief techniques that you should start implementing into your daily life.
3. Check Your Email Less Often
Researchers have actually found that limiting the number of times that you check your email can help relieve anxiety. Try to check your emails only three times daily and you might find that you're less stressed.
4. Get Away from Electronics
Electronic devices are everywhere in your everyday life, and you may have become quite dependent on them. But researchers have noted that higher stress levels can be associated with checking your smartphone all the time. Make it a point to unplug regularly, head out into nature, and find peace.
5. Get Plenty of Rest
Yet another one of the surprisingly simple anxiety relief techniques that you can try involves getting more rest and sleep. Having trouble falling asleep? Steer clear of electronics that mess with your internal clock.
6. Watch Some Comedy
Smiling and laughing can help relieve your stress levels, so when you are feeling anxious, get your mind off your troubles by watching a funny TV show, comedy routine, or movie.
7. Do Yoga
In addition to being a great workout, yoga can help reduce your anxiety by allowing you to increase flexibility and movement throughout the body while deepening your breath.
8. Try Aromatherapy
Certain fragrances can be used to relieve stress, such as lavender, so infuse these scents throughout your workspace or home to feel some calmness.
9. Meditate
Meditating to relax and quiet the mind for just a few minutes every day can help you focus on your deep breath and relieve anxiety and tension.
10. Adopt a Pet
Animals can be great stress-relievers, so consider adopting a pet, whether that's a dog, cat, rodent, or bird, as their company can work wonders at relieving anxiety and bringing you joy.
Another route that you can take to gain control over your anxiety involves taking an anti-anxiety product. If you don't want to use prescription medications, you can try an over-the-counter, safe anxiety product like Zanaprin to get results without harsh side effects.