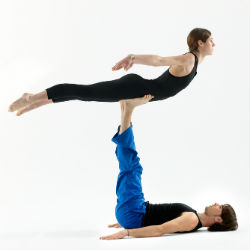 Yoga can be an extremely beneficial practice, but we'd all be lying if we didn't recognize the fact that a lot of people end up getting hurt—sometimes seriously hurt—while they are doing yoga.
How can you stay safe during challenging yoga poses so that the practice can be healing? Keep reading for a few tips that you can follow every time that you are on the mat.
Always Listen Closely to Your Instructor
First off, whether you practice yoga at home via an online streaming service or you are at a yoga studio, pay close attention to your instructor's cues. Your mind shouldn't be wandering off; instead, it should be focused on the instructions and on your body.
A good yoga teacher will know about anatomy and proper alignment, and when you are taking a yoga class in person, he or she will even help to adjust your body so that it is in a safe position.
Also remember these tips: whenever you get into a lunge position, such as one of the many warrior poses, always make sure your joints are stacked. Keep the knee above the ankle at a 90° angle. The same goes for when you are in any kind of plank, as you want your shoulders to be above the elbows and the elbows above the wrist. Keep those joints stacked in one line and you can prevent injuries.
Use Props
Props in yoga, including blocks and straps, aren't meant to act as training wheels. There is no shame in using props, as they are designed to get you into perfect alignment while supporting your body. So if you want to stay safe during challenging yoga poses, invest in props and use them.
Don't Push Yourself Too Far
There's a healthy level of challenge that your body should experience during any exercise program, including yoga, but you don't want to go so far that you end up hurting yourself. When getting into deep stretches, stop before it gets painful. In fact, you shouldn't be feeling any pain at all when practicing yoga. If you do, come out of a pose.
Stay safe during challenging yoga poses by only going as far as you can for today. Tomorrow, you will improve; but for now, don't push yourself. You could end up injuring your knees, your neck, and your back, as a few examples, so take it easy. Progress will come in time and with consistency.