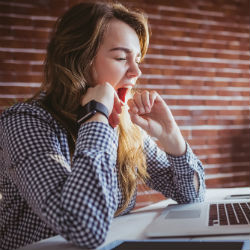 How you breathe can have a big impact upon how you feel, not only when you are working out. The way you breathe throughout the day can help you remain centered, as well as feel relaxed and in control.
So are you breathing all wrong? Continue reading to learn more about how you should be breathing to bring your body the most relief.
Breathing into Your Belly
If you are breathing into your chest, you are breathing all wrong, and moving that breath into your belly could bring about a sense of relaxation. Start by placing one of your hands on your belly and the other hand on your chest. Breathe in deeply through the nose, inflating your diaphragm rather than your chest. Feel the lungs expand and make sure to take anywhere from 6-10 slow breaths each minute to feel these effects and make them last.
Alternate Nostril Breathing
If you practice yoga and meditation, you likely have come across this breathing technique, which is designed to bring balance and calm to the body. Simply sit in a comfortable position and hold your thumb on your right nostril so that you can inhale only through your left nostril. Once you can't breathe in anymore, close the left nostril, open the right, and exhale. Then breathe in through the right nostril and exhale through the left.
Balanced Breathing
When you notice that you are breathing all wrong, one of the best and fastest ways to restore balance is through an equal breathing technique that is simple to do anywhere. Start by inhaling for four counts and then exhaling for four counts. Only breathe in and out through your nose. The more advanced you become, the longer you can make your inhales and your exhales to further calm down your nervous system while focusing the mind on the breath.
Inhaling Through the Nose, Exhaling Through the Mouth
Finally, exhaling through the mouth might also bring some relief when you are breathing incorrectly or erratically and feeling its negative effects. Start by gently inhaling through your nose for a few seconds before exhaling all of that air gently through your mouth. You can even make a slight sighing sound to further calm the mind and the nervous system as you clear your mind and release all of the tension from your body.
In addition to learning the best breathing practices for de-stressing and freeing yourself from tension, you can also try taking an over-the-counter anti-anxiety product like Zanaprin to get some much-needed relief.