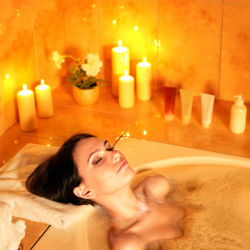 Few things are more relaxing than a lovely day at the spa, but if you don't have the time or the money for a little retreat, you can instead use the following easy home spa ideas to create a tranquil sanctuary in your own home. And the best part is that you can schedule your spa day for whenever you need to unwind and release tension and stress.
Take a Bath with Epsom Salt
Whether you endured a really tough workout or your body is simply tense as a result of everyday stressors, taking a warm bath with some Epsom salt could be just what your muscles need to feel relaxed again. Burn some candles around your bathtub to create a warm glow, play some peaceful music off your mobile device, and then add 1 cup of Epsom salt to the water and soak for as long as you want.
Moisturize Your Hair with Coconut Oil
Make a coconut oil hair mask by taking some pure oil and running it through your hair from root to tip. Allow this natural moisturizer to sit in your hair for about 15 minutes. It will deep condition every strand, as well as your scalp, until you are ready to rinse it out and wash your hair with your favorite natural shampoo and conditioner. This is one of the many easy home spa ideas that anyone can try, and it will leave your hair feeling soft and smooth.
Give Yourself a Manicure and Pedicure
Go ahead and give yourself a manicure and pedicure as you listen to some of your favorite songs. You can clear your mind as you focus on trimming and filing your nails, painting them your favorite color, and moisturizing your skin so that your hands and feet will look smooth and beautiful.
Use Aromatherapy to Calm Your Mind
Use an aromatherapy diffuser to infuse your space with the calming fragrance of lavender. Your mind will relax as you inhale this scent, and your home will smell like a spa in no time. Aromatherapy, especially when combined with natural anti-anxiety remedies like Zanaprin, can help you release the stress that you are holding onto in body and mind.
With these quick and easy home spa ideas, you can take a much-needed break from your everyday chores and responsibilities to pamper yourself for a little while. By the time you are done, you should feel renewed and rejuvenated.