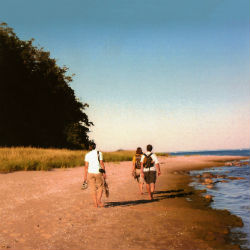 For the kids, summer break is a time of fun and relaxation. But it could also be a time for boredom, and it can make it hard for parents to juggle family life and work life. When the kids are out of school for summer break, parents could easily become stressed, and kids could also feel stressed if they don't have enough activities to keep them occupied. Thankfully, there are several summer break anxiety relief activities that you can try with the entire family.
Spend Time in Nature
Even just a 30-minute walk through a park could help bring your mind into a more positive state when you are feeling anxious or stressed.
Researchers have found that simply walking through a green, natural space could help place your mind into a meditative and relaxed state. So whether you take a quick walk during lunch or you end your day with a stroll through your favorite green space, you can make your summer break more bearable by letting Mother Nature help.
Go to the Beach and Get Some Sun
Summertime is the perfect time to head to the beach and get a tan. So go ahead and put on that sunscreen, lounge on the sand, and let your mind clear of all of your troubles.
Cool off and get some exercise in the water, which will help boost your mood as well, and then let your body naturally produce all of the vitamin D that it needs to keep your mood elevated.
Start a Garden
Nurturing plants in your very own garden is a great way to get some much-needed summer break anxiety relief. Like walking in a park, gardening can also put your mind into a relaxed and meditative state, allowing your stress to melt away.
In fact, a study in the Netherlands even determined that gardening could actually decrease your level of cortisol and improve your mood, particularly if you recently completed a task that was stressful to you.
Do Some Outdoor Yoga
Yoga is a great form of exercise that can help you unwind indoors, so imagine the benefits that it can provide when you are inhaling fresh air and feeling the sun on your skin.
This is a great way to relieve stress, but make sure that the weather is cool enough to keep you comfortable as you get your body moving, and don't forget to protect your skin with sunscreen.
If you have tried the summer break anxiety relief tips above but you still feel really frazzled, consider taking an over-the-counter anti-anxiety product like Zanaprin. You might be able to feel some relief through a combination of lifestyle changes and the right product.