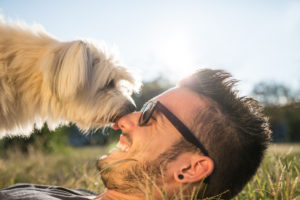 After a long day on the job, all you want to do is go home and unwind. But how can you relax after a hard day at work so that you can really release tension from your body and clear your mind? Check out the tips below so you can rejuvenate yourself every night.
Spend Time with Your Pet
If you have a pet, spending time with him could be a wonderful way to relax after a long day at work. Animals are able to show people unconditional love, and they shower you with attention, taking your mind off of your troubles. Whether you have a pet bird, a dog, a cat, or even a guinea pig doesn't matter. Just spend some time with your pet and see how your stress melts away.
Fun fact: did you know that petting a cat could release stress? All the more reason to head out to a local shelter and adopt one!
Exercise
Regardless of what type of exercise you prefer, whether you like intense fat burning routines that get your heart rate up or you prefer to slow things down with yoga, working out is another great way to relax after a day at work. Plus, you will be taking steps to keep your body fit and healthy.
Take a Warm Bath or Shower
Whether you prefer a bath or a shower, lighting some scented candles, playing some music, and washing your body clean is another great way to relax after a hard day at work. You can release tension from your muscles with the warm water, and you can focus on letting go of all of the baggage from the day so that you can feel fresh and renewed.
Get into Clean Clothes
Physically removing your clothes from your workday can serve as a symbol of you letting go of everything that happened that day. But it could also help you restore your mind and get ready for some relaxation because you will no longer be smelling the scents on your clothes that are associated with your job. So go ahead, put your most comfortable clothes on, sit down on the couch, and watch your favorite shows.
These are just a few of the many ways that you can relax after a hard day at work. How you choose to unwind is up to you. The key is to find methods that work for you so that you can release stress before it can build up and cause health problems.